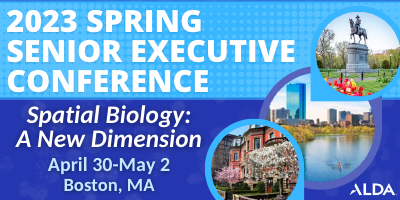 2023 Spring Senior Executive Conference

Sunday, April 30 (4pm) - Tuesday, May 2, 2023 (9:30am US/Eastern)

Mandarin Oriental Hotel
776 Boylston St [map]
Boston, MA

For more information and to register visit http://www.thealda.org/boston2023!
The Spring Senior Executive Conference is one of our semi-annual meetings designed for member company C-suite executives, presidents and their senior executive teams. Each conference focuses on emerging trends and business strategies and offers great insights and advice, along with many opportunities for dialogue with other senior executive attendees.
The May 1 conference sessions will cover the topic Spatial Biology: A New Dimension. Recently dubbed "the next revolution in understanding health and disease" and the "hottest field in biomedicine," spatial biology has seen rapid growth in popularity. Members will take a deeper dive into this highly relevant topic, focusing on everything from basic research and discovery applications to the numerous clinical, translational, and pathology opportunities. Sessions will also discuss the challenges involved in the science, including a focus on data & informatics.
These topical sessions will, as always, be accompanied by bookend top-tier keynote speakers and best-in-class networking that you can only find at an ALDA conference.
We're very excited to announce the following speakers:
Andrew Busch
Sunday, April 30
Sunday Evening Dinner Speaker
"Where do we go from here?" is the question Andrew Busch answers on the economy, business and government policy. He breaks down today's chaos to provide specific ideas how organizations and investors can overcome, adapt and thrive.
Andrew was the first Chief Market Intelligence Officer (CMIO) for the U.S. government at the Commodity Futures Trading Commission (CFTC). As CMIO, he was charged with improving and enhancing the government's understanding of the markets. Mr. Busch provided briefings to the White House and Congressional leaders on a wide range of issues including the economy, stock market direction, interest rates and China's influence on the global commodity markets. Andrew will share all the latest on these topics and more with ALDA attendees.
Peter Sorger, Ph.D., Head of Therapeutic Sciences, Professor of Systems Biology at Harvard University
Monday, May 1
Dr. Sorger will kickoff the Spatial Biology portion of our conference and will frame the day's discussion by sharing his historical perspective on spatial biology while also diving into current trends and what's to come.
Christopher E. Mason, Ph.D.
Professor, Department of Physiology and Biophysics
Weill Cornell Medicine
Monday, May 1
One of the first places the new spatial biology technologies are being applied is basic research. This is not necessarily geared toward curing disease, but rather cataloging how cells interact and work together to form tissues and organs. There are multiple major cooperative efforts currently engaged in accomplishing this. Chris Mason from Weill Cornell will give an overview of these projects, including the Human Cell Atlas (HCA) project, the Human BioMolecular Atlas Program HuBMAP initiative and other early-stage applications of the technology.  Chris is a Professor of Physiology and Biophysics and prolific genomics researcher at Weill Cornell Medicine, and will share more on the research that he and his colleagues are doing with the new generation of spatial biology tools.
Ioannis Vlachos, PhD
Assistant Professor, Harvard Medical School
Director of Spatial Technologies, HMS Initiative for RNA Medicine
Monday, May 1
For years, pathologists have used conventional spatial methods such as staining with dyes or labeled antibodies to study patient samples and diagnoses. There is lots of debate regarding whether/when the new methods will be used in the clinic. Professor Vlachos will share his thoughts on the path from applying these traditional pathology methods to the higher-plex methods now available. Attendees will learn more regarding how applications in translational research could lead to applications in clinical trials and then ultimately in clinical practice. Dr. Vlachos will share perspectives on recent history of the field, the current state of the art, and his outlook for the next five to ten years.
George Church, Ph.D.
Robert Winthrop Professor of Genetics at Harvard Medical School, Professor of Health Sciences and Technology at Harvard University and Massachusetts Institute of Technology
George will discuss his pioneering work in spatial biology and genomics and take questions from attendees spanning his accomplished career and numerous scientific contributions.
Arianna Huffington
Founder of The Huffington Post, Founder and CEO of Thrive Global
Tuesday, May 2
Arianna will discuss lessons in leadership and the latest in new media and tech.
More details and speakers will be added soon!
Related Web Pages and Sites:
For more details on the conference, click here!
Register at this link!